How Much Can I Recover In A Georgia Medical Malpractice Case?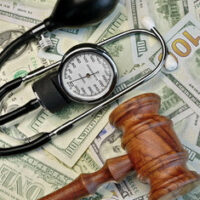 Unfortunately, incidents of medical malpractice are quite common. Every year, tens of thousands of medical malpractice cases are filed in the United States of America. Some people fall victim to medication errors, while others fall victim to surgical and diagnostic errors. Fortunately, people who fall victim to medical negligence in Georgia have the right to recover compensation from the negligent party or parties.
If you suffered injuries and suffering at the hands of a medical professional in Georgia, one of the questions likely on your mind right now is: "How much will I receive in a Georgia medical malpractice case?" The answer is dependent on several factors.
Factors That Affect the Value of a Georgia Medical Malpractice Case
First, the amount you recover is dependent on the extent to which the defendant medical professional violated the applicable standard of care. Recoveries are typically higher for blatant medical errors than for subtle ones.
The amount you recover for your Georgia medical malpractice case also depends on the types of damages available in your case and whether you prove all of them. Just because you have suffered damages doesn't mean you will recover compensation for those damages. You need to first prove those damages. That is why it is crucial to work with a knowledgeable and skilled medical malpractice attorney.
Types of Damages in a Georgia Medical Malpractice Case
As victim of medical negligence in Georgia, you may recover the following damages;
Economic damages
Non-economic damages
Punitive damages
Economic or special damages include lost wages and medical expenses. Non-economic or general damages include anxiety, scarring, pain and suffering, and loss of ability to enjoy life.
Punitive damages can only be awarded if a case involves intentional wrongdoing. According to Georgia law, punitive damages may be awarded if the defendant's actions showed oppression, malice, willful misconduct, wantonness, fraud, or conscious indifference to consequences.
Contact an Atlanta Medical Malpractice Attorney
Are you a victim of medical negligence and need help recovering the compensation you deserve? Call the Carroll Law Firm at 404-816-455 to get help from a knowledgeable and experienced Atlanta medical malpractice attorney.