How To Protect Your Loved One From a Medical Mistake in the E.R.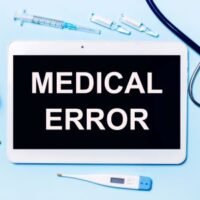 When a loved one requires immediate medical attention or sustains a severe injury, the best thing to do is to immediately take them to the emergency room (ER). Medical professionals in the ER are trained to handle patients as fast as possible to save their lives. Because of how chaotic emergency rooms can be, Georgia law allows ER professionals a greater margin of error than doctors and nurses practicing in an office or general hospital setting.  Specifically, a plaintiff in Georgia must prove that the emergency room professional acted grossly negligent.
Fortunately, proper training, prevention methods, and staffing procedures can prevent medical malpractice in emergency rooms. There are also steps you can take to protect your loved one the next time you need to visit the ER. The following are some of the steps you can take to protect your loved one from a medical mistake in the ER:
Inform the ER Team About Any Conditions, Allergies, or Medication Reactions ASAP
The ER team can find information about medical conditions, allergies, and medication reactions in your loved one's medical records. However, the ER team may not have time to find your loved one's medical records and go through them before offering treatment. It is best to inform the ER team about any conditions, allergies, or medication reactions as soon as possible.
Carry a List of Medications Your Loved One Is On
Apart from informing the ER team about any conditions, allergies, or medication reactions, make sure the team knows about the medications your loved one is on. Because you cannot predict when an emergency will arise, it is best always to carry a list of drugs for your loved ones. You can have such a list on your phone.
Ask Questions
Rushing a loved one to the ER can be an overwhelming experience. However, you should try to maintain an objective mind. For starters, it is crucial that you ask the right questions to protect your loved one from medical errors. The following are some questions to ask when in the emergency room:
What is the cause of the patient's symptoms?
What medical procedures or medications can help?
Are there alternatives to the prescribed treatment?
Do the patient's medications impact the prescribed treatment?
What are the possible risks, complications and side effects of the treatment or medication?
Have With You Your Family Doctor's Contacts
It is crucial that you always have with you the contact information of your family doctor. Your family doctor knows, among other things, which medications can affect your loved one and all the underlying conditions your loved one has. While at the ER, you can call your family doctor and seek clarification to ensure your loved one is well taken care of.
Watch Your Loved One
When in the emergency room, it may be challenging to be by your loved one's side at all times, but whenever you can, watch your loved one. Pay attention to the type of care being rendered to your loved one. If anything does not seem right or you have concerns, speak up.
Legal Help Is Available
If, unfortunately, a visit to a Georgia emergency room results in your loved one suffering harm and you believe medical malpractice is to blame, do not hesitate to contact our skilled Atlanta medical malpractice attorney at Carroll Law Firm for legal help.
Source:
law.cornell.edu/wex/standard_of_care