Are Punitive Damages Available In Georgia Medical Malpractice Cases?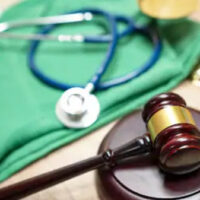 In Georgia, courts award punitive damages to punish a defendant for particularly egregious conduct. Unlike compensatory damages, punitive damages are intended to punish the defendant for intentional or malicious misconduct rather than compensate the victim for their losses.
But do Georgia courts award punitive damages in medical malpractice cases? The short answer is, "It depends."
Consult with an Atlanta medical malpractice attorney Stacey Carroll, the founding attorney at Carroll Law Firm, to discuss your particular situation and determine if you can pursue punitive damages in your case.
When Do Georgia Courts Award Punitive Damages?
Pursuant to O.C.G.A. § 51-12-5.1, punitive damages are awarded to injured victims when the defendant who caused their injury engaged in malicious, wanton, willful, fraudulent, or oppressive conduct.
When the defendant's conduct in a medical malpractice case can be described as such, a Georgia court may award punitive damages to the victim. The plaintiff has the burden to prove that they are entitled to punitive damages.
It is advisable to seek the legal counsel of a knowledgeable attorney to help you collect clear and convincing evidence proving that you should be awarded punitive damages.
Are There Any Caps on Punitive Damages in Georgia?
Many states limit the amount of damages that may be awarded to plaintiffs in personal injury cases. While Georgia law does not cap compensatory damages (economic and non-economic damages caused by the defendant's negligence or wrongdoing), it imposes a cap on the maximum amount of money a plaintiff can seek in punitive damages.
Under O.C.G.A. § 51-12-5.1, punitive damages are capped at $250,000 unless the plaintiff can prove that the wrongdoer "acted with the specific intent to cause harm" or the case involves the use of alcohol or drugs by the defendant.
If a negligent doctor's conduct was particularly egregious in your medical malpractice case, a Georgia court might cap your punitive damages at $250,000, while your compensatory damages will not be subject to any caps. The award of punitive damages will be based on a wide range of factors, including the severity of harm.
Contact a Medical Malpractice Attorney to Pursue Punitive Damages
Punitive damages can significantly increase the value of your medical malpractice claim, which is why it is essential to consult with an attorney to determine whether or not you are entitled to these damages in your specific case.
A skilled lawyer can help you assert a claim for punitive damages to maximize your recoverable damages. Schedule a case review with our medical malpractice attorney at Carroll Law Firm to discuss your situation. We can help you understand what kinds of damages are available in your medical malpractice case. Call 404-816-4555.