Can Language Barriers Lead to Medical Malpractice?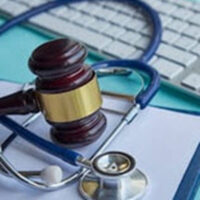 Nearly 22% of the U.S. population speaks a language other than English at home, according to an analysis of Census Bureau data for 2018. The fact that one in five U.S. residents speaks a foreign language at home contributes to the increased risk of medical malpractice due to miscommunication.
Statistically speaking, non-English speaking people are less likely to seek high-quality medical care and are more likely to fail to follow their doctor's orders or recommendations. Language barriers in healthcare may lead to diagnosis errors, delayed diagnosis, medication errors, and other types of medical malpractice.
Medical Malpractice and Language Barriers
A non-English speaking patient is at much greater risk for medical errors than an English native speaker. Misunderstanding or inadequate communication between a doctor and patient can result in bad outcomes. Having a trained and competent medical interpreter can help prevent medical errors while being diagnosed or receiving medical care.
However, many patients who need qualified and trained medical interpreters do not have access to them. As a result, they are likely to use interpreters who are not trained to translate medical terminology. Non-medical interpreters are more likely to make translation mistakes, which can lead to adverse consequences. A non-medical interpreter is unlikely to know all medical terms in both languages.
A hospital's failure to provide properly trained medical interpreters can give rise to medical malpractice if the patient is harmed due to the facility's failure to provide competent interpreter services. However, it is important to speak with a medical malpractice attorney to review your particular case and determine whether you can sue the doctor or hospital for failure to eliminate language barriers when providing medical care.
How a Hospital Can Prevent Medical Malpractice
Healthcare providers must know the patient's preferred language for discussing medical care. This information should be included in the patient's medical records. Hospitals can overcome language barriers by providing medical interpreters through:
Hiring part- or full-time medical interpreters
Using on-demand telephonic interpretation services
Hiring doctors who can speak another language fluently (and referring a non-English speaking patient to the doctor who speaks her language)
Hiring freelance medical interpreters
Often, hospitals choose to hire part- or full-time medical interpreters for common languages such as Spanish and French, while also using on-demand telephonic interpretation services for less common languages. A properly trained medical interpreter must:
Be fluent in English and another language;
Understand medical terminology in both languages; and
Have experience in being a medical interpreter.
Section 1557 of the Affordable Care Act prohibits discrimination based on national origin, race, skin color, age, sex, and disability. The law strengthens patients' access to healthcare information and gives non-English speaking patients grounds to file a medical malpractice claim against a healthcare provider for failing to provide adequate interpretation or translation services.
Many medical malpractice lawsuits are filed against hospitals and doctors due to miscommunication or diagnostic errors caused by language barriers. If you were harmed due to the hospital's failure to provide a trained medical interpreter or because of language barriers between you and your doctor, consult with our Atlanta medical malpractice lawyer at Carroll Law Firm.
Our award-winning medical malpractice attorney in Georgia will review your particular case to determine whether you are eligible to pursue a medical malpractice lawsuit against your doctor or hospital. Call at 404-816-4555 for a consultation.
Resource:
cis.org/Report/673-Million-United-States-Spoke-Foreign-Language-Home-2018