Can You Sue A Hospital If A Doctor Committed Medical Malpractice?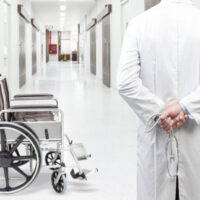 When a doctor commits medical malpractice, you may assume that the doctor is the only party you can sue to recover damages. However, in many cases, it is also possible to pursue a medical malpractice lawsuit against the hospital where the treatment occurred.
It is highly recommended to talk with an Atlanta medical malpractice attorney to determine whether or not you can hold the hospital liable for your injuries and resulting damages.
When Are Hospitals Responsible for Medical Malpractice?
A knowledgeable attorney can help you hold a hospital liable for the medical errors made by its staff.  A hospital can be held responsible for negligence committed by its nurses and other staff. Also, a hospital is required to have appropriate protocols, policies, and procedures in place to prevent harm to patients. If such protocols and policies are inadequate or not followed properly, and a patient is harmed, the hospital can be held liable for the harm.
How to Prove a Hospital's Liability in a Medical Malpractice Claim?
Proving a medical malpractice claim is a complex issue, especially if you are trying to sue a hospital for a medical error committed by its staff. You need a skilled lawyer to conduct an in-depth investigation to determine whether or not the hospital staff deviated from the standard of care.
You may also need to work with medical experts who can review your medical records and all available evidence to determine whether or not your medical malpractice claim is valid. Once you have evidence proving the hospital's liability, your lawyer will ensure that you obtain the compensation to which you are entitled through negotiations.
If a hospital denies its liability or refuses to pay you the amount you deserve, your lawyer may pursue a lawsuit against the institution to fight for maximum compensation.
Speak with an Atlanta Medical Malpractice Lawyer
Our experienced medical malpractice lawyer, Stacey Carroll, has taken on numerous hospitals across Atlanta and Georgia when pursuing compensation for clients. If you believe that your hospital deviated from the accepted standard of care and caused you or your loved one harm, speak with our lawyer to determine whether or not you can file a lawsuit against the negligent hospital. Schedule a case review by calling 404-816-4555 today.