What Is An Expert Affidavit In Georgia's Medical Malpractice Cases?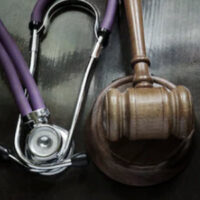 Under Georgia law, plaintiffs in medical malpractice cases must file a medical expert's sworn statement to support their claims. Without an expert affidavit, the plaintiff's medical malpractice case is subject to dismissal.
Our Atlanta medical malpractice attorney Stacey Carroll can help you prepare a proper expert affidavit in your particular case. Get a case review by calling 404-816-4555.
What is an Expert Affidavit in Med Mal Cases?
An expert affidavit is a critical element of any medical malpractice case in Georgia. An affidavit from a medical expert is a sworn statement under oath attesting to the merits of the plaintiff's case. An expert affidavit must be written by a qualified medical expert who is "competent to testify" to be considered in a medical malpractice case, according to O.C.G.A. § 9-11-9.1.
A properly executed affidavit from an expert must include all of the following:
A statement regarding the expert's knowledge, experience, professional qualifications, and education to establish his or her competence to testify;
A statement explaining how the defendant deviated from the medical standard of care; and
The factual basis for the expert's opinion.
Who Can Qualify as an Expert to Testify in a Medical Malpractice Case?
A medical expert must meet specific requirements to qualify as an expert who can testify in your medical malpractice case. An expert can qualify to provide testimony in a med mal case when the following requirements are met:
License. The expert who testifies in your medical malpractice case must be properly licensed to practice in his or her profession. The expert does not necessarily need to be licensed in the State of Georgia if you are filing a medical malpractice claim in Georgia.
Experience. The expert who gives an affidavit in your medical malpractice lawsuit must have experience related to the performed medical procedure that caused the plaintiff's injury. The experience can be accumulated from either performing procedures themselves or teaching other people at educational institutions.
Active. The medical expert must have been actively practicing medicine or teaching others for at least three out of the last five years with respect to the procedure, condition or treatment at issue.
In medical malpractice cases, an expert affidavit is used to determine whether or not the defendant (the medical professional who caused the plaintiff's injury) was negligent. Negligence can be established by proving that the defendant failed to adhere to the accepted standards of care.
An expert who provides testimony in a medical malpractice case will have to analyze what another reasonably prudent and competent medical professional would have done in the same or similar situation to determine if the defendant deviated from the standard of care.
If you are looking for a medical expert who can testify in your medical malpractice case, contact our skilled lawyer Stacey Carroll. We can help you find the right medical expert who can give an affidavit in your case. Discuss your case with our lawyer at Carroll Law Firm by calling 404-816-4555.