How to Sue a Doctor for Medical Malpractice in Georgia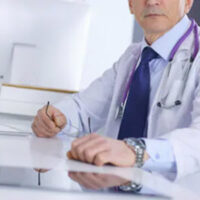 We rely on doctors and their knowledge when something bad happens to us, whether it is a gradually developing condition or an injury stemming from a car accident. Unfortunately, doctors sometimes make mistakes (which is why they carry insurance), and those medical errors can result in harm and negative consequences.
How a Medical Malpractice Attorney in Georgia Can Help
Medical professionals have a duty to treat their patients while adhering to high standards of care. However, mistakes can happen due to the negligence on the part of doctors, which is why it is vital to consult with a skilled medical malpractice attorney in Georgia if you suspect that you were harmed by a medical error.
Here at Carroll Law Firm, our experienced lawyer may be able to help you seek compensation if your injury or illness was the result of a medical error. We have represented clients who have been injured due to:
Surgical errors
Diagnosis errors or misdiagnosis
Hospital errors
Anesthesia errors
Emergency room negligence
Failure to treat
Birth injuries
Medication errors
A Standard for Medical Malpractice Claims in Georgia
When a patient suffers harm while being treated by doctors or during a stay in a hospital, the patient tends to question the competence of his/her physician or hospital staff. However, not all injuries sustained by patients during treatments or medical procedures arise from medical malpractice.
Nonetheless, it is important to consult with a knowledgeable attorney in Georgia to discuss your particular situation and determine whether your case constitutes medical malpractice. To establish whether a doctor was negligent, your lawyer will have to determine whether the doctor's conduct met the applicable standard of care.
In Georgia, you have to prove the following two elements in order to sue a doctor for medical malpractice:
The doctor's conduct did not meet the applicable standard of care; and
There is a link between the doctor's actions and the patient's injury or death (i.e., causation).
The aforementioned elements must be proven in order to pursue a medical malpractice claim in Georgia.  To prove that the doctor's conduct failed to meet the acceptable standard of care, you will have to provide evidence through expert medical testimony that another reasonably competent healthcare professional would not have caused your injury under similar circumstances.
Typically, this means finding another doctor who will review your particular situation and sign an affidavit specifying the appropriate standard of care and establishing how the standard was breached.
For this reason, it is advised to seek legal help from a skilled medical malpractice attorney in Atlanta, Georgia, in order to ascertain that the standards of care were not met. Here at Carroll Law Firm, our Atlanta medical malpractice lawyer has the knowledge and experience to prove that you were harmed as a result of negligence or malpractice.
Consult with a lawyer to ensure that your rights and interests are protected. Schedule a consultation with a knowledgeable lawyer by calling at 404-816-4555.
https://www.carroll-firm.com/medical-malpractice-in-radiology-when-can-you-sue-a-radiologist/