What Makes a Product Defective?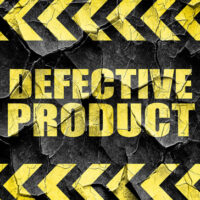 You've probably heard stories about machinery, appliances or automobiles  that fail, causing tragic injuries. People often receive sizable monetary awards due to these injuries. But not all injuries are covered, and not all bad merchandise is necessarily "defective" under the law.   So, how do you tell the difference?
First, if you are in doubt about an injury that you believe was caused by a defective product, always talk to an experienced product liability attorney right away to make sure you don't miss important deadlines. Still, there are some keys to look for.
The Law Behind Defective Product Cases 
Georgia law – much like federal law and other states' laws – provides potential compensation for those who are injured by someone else's negligence. While most people instantly think of careless drivers or negligent doctors, there are many different types of negligence. In fact, large corporations and manufacturing companies can be negligent in how they design or build a product.
Cases that involve injuries caused by defective products are known as "product liability" cases, and these are frequently very difficult and complex cases. Many are litigated in multiple districts around the country, given the widespread possibility of many victims in varying locations. To prevail in a product liability case, you'll need to prove certain elements:
The product or item was defective when it left the manufacturer's control. The defect at issue must have existed when the product left the manufacturer's control. Consider two examples. (1) A person buys a lawn mower and severely cuts his hand while trying to change the blades. It occurred because the bolt was overtightened after the mower was purchased, and the individual had to struggle to unscrew the bolt. (2) Another person bought a lawn mower, and the blade came loose and cut his foot because the attaching bolt had metal fatigue . In the first example, there was no inherent defect when the product left the manufacturer's control. In the second, there was something inherently defective that caused the blade to dislodge. The latter would be a good example of a potential product liability claim. 
The specific defect caused the injury or damage. Finally, you have to actually show that your injury was directly caused by the specific defect. With the example above, compensation may be recovered for all injuries proximately caused by the dislodged blade.
If you've been hurt by a dangerous product or lost a loved one due to some device or product, then your family deserves to get answers and receive compensation that may help with treatment and medical bills, as well as replace lost income. Contact the Atlanta defective product attorneys at Carroll Law Firm today, and find out how we may be able to help.