Georgia Product Liability Cases: Statute Of Limitations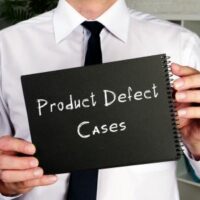 In Georgia, if a defective product injures you, you might be able to obtain compensation from the product's manufacturer, the distributor, the wholesaler, and/or the retailer who sold you the product. However, it is crucial to note that, just like other states, Georgia has strict limitations on the amount of time you have to file a lawsuit after being injured by a defective product. The law that governs the amount of time you have to file a lawsuit against another party after being injured is known as the "statute of limitations." If a defective product injured you, it is crucial that you know about Georgia's statute of limitations for product liability claims to ensure you protect your right to compensation.
The Statute of Limitations for Defective Products Personal Injury Claims in Georgia
Generally, in Georgia, you have two years to file a defective product personal injury lawsuit. Usually, this means you must file your lawsuit within two years after the injury occurred. In rare cases, however, Georgia's discovery rule applies, which means that the two-year time limit is measured from the date when you found out or should have found out about your injury and its cause. However, just like many other laws, there are exceptions to this statute of limitations. If, for instance, an individual is a minor or is legally incompetent due to a mental disability, the statute of limitations may be extended.
Statute of Repose
In Georgia, the statute of repose may also limit the amount of time you have to file a personal injury lawsuit after being injured by a defective product. According to Georgia's statute of repose, product liability lawsuits must be filed within ten years of the first sale or use of the product.
However, just as is with the statute of limitations, there are some exceptions to the statute of repose. The exceptions include;
Negligence claims against a manufacturer for products that cause a birth defect or disease.
Cases involving a manufacturer's failure to warn of a latent danger arising from the use of a product.
Cases involving injuries from a manufacturer's reckless, or intentional disregard for property or life.
Damages Awarded in a Defective Product Lawsuit
The kinds of damages you will recover for your injuries after filing a defective product personal injury claim depend on the specifics of your case. But generally, Georgia allows for plaintiffs to recover compensatory damages and punitive damages. Compensatory damages, i.e., special and general damages, compensate an injured person for their injuries and losses. Special damages include lost wages and medical expenses, and general damages include mental anguish and pain and suffering. On the other hand, punitive damages are imposed to punish and deter the defendant manufacturer of the product.
Contact Us for Legal Help
If you've been hurt by a defective product, you deserve to be compensated. Contact the Atlanta defective product attorneys at Carroll Law Firm today to start working on your case.