How to Deal with a Breach of Contract in Georgia Business Litigation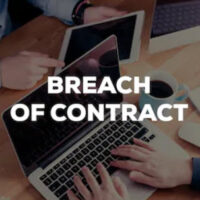 Business relationships typically involve a contract signed between the participating parties.  The parties' rights and duties are regulated by the terms and definitions contained within that contract.
When a party fails to perform its obligations under a contract, the other party may be able to sue for specific performance or compensatory damages. However, your business contract must be legally binding in order to hold the other party responsible for breach of contract.
What's a Legally Binding and Enforceable Contract in Georgia?
In Georgia, both written and oral contracts are considered enforceable in the eyes of the law. However, a contract must meet specific requirements to be legally binding and enforceable in Georgia:
The agreement must address all important terms and conditions;
There must be mutual assent of both parties to a contract's terms;
All participating parties must be legally competent to enter into the agreement;
There must be consideration for the contract;
All participating parties must enter into the contract willingly (not under duress, fraud, or malice); and
The subject matter of the agreement must not violate any state or federal law.
Dealing with a Breach of Contract in Business Litigation
Often, the harmed party can be relieved of its contractual obligations by the offending party's breach. Generally speaking, there are three ways to deal with a breach of contract in Georgia's business litigation:
Recovery of consequential damages;
Rescission; or
Specific performance.
Recovering Damages
If you have suffered financial damages or losses as a result of the other party's breach of contract, you may be able to recover damages. In Georgia, recoverable damages must be actual, measurable, and proven:
Loss of revenue or income
Incidental damages
Other damages established by the contract
Rescission
The term rescission refers to rescinding or canceling a contract. Rescission of a contract can be done when the offending party breaches. The offended party has a right to rescind the contract.
Specific Performance
When one party fails to perform its obligations under the contract, the other party may request specific performance. This legal remedy is available when damages cannot be adequately measured, or damages would fail to adequately compensate the offended party for its business losses.
Why You Need an Atlanta Breach of Contract Attorney
Since each contract is unique, it is vital to consult with an experienced breach of contract attorney in Atlanta or elsewhere in Georgia. Speak with a skilled business litigation lawyer if there has been a breach of contract to identify the most appropriate legal remedy.
Our knowledgeable Atlanta breach of contract attorney at Carroll Law Firm will review your particular situation and help you defend your legal rights and deal with the breach. Call at 404-816-4555 for a consultation.
https://www.carroll-firm.com/covid-19-defenses-if-a-party-is-unable-to-meet-their-contractual-obligations-in-georgia/