Getting out in Front of Contract Disputes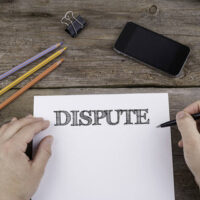 In the business world, contract disputes occur for a multitude of reasons ranging from defective services and merchandise to fraud.  If the parties are unable to resolve the dispute on their own, litigation may be the only option. If a contract was breached by another company or contractor, or your business is being accused of failing to abide by the terms of the agreement, you need an Atlanta breach of contract attorney.
What to Know About Contract Disputes in Georgia
While most contract disputes arise because one of the parties simply failed to fulfill a contractual duty, in some cases, conflicts originate from a party's failure to understand its responsibilities as outlined in the agreement.
Here are some tips to consider in the event of a potential contract dispute:
Q: Should I Collect Any Documents When There's a Contract Dispute?
Yes.  Any time you anticipate possible litigation—whether it involves a contract or not—you have a legal duty to preserve and collect all documents, electronic information, and other evidence related to the dispute.  Failure to do so can result in sanctions in a subsequent lawsuit, and it can also prevent you from proving your case.  All emails, text messages, letters, memoranda, calendar entries, and other such documents should be preserved for your attorney.
Q: Should I Talk to the Other Party's Attorney?
No.  If the opposing attorney is attempting to speak with you, he or she is likely trying to elicit evidence helpful to his/her client.  Refer any attorney calls to your own counsel.
Q: Do Contract Disputes Always Lead to Business Litigation?
No, not necessarily. While settling your dispute in the courtroom is certainly an option, most contract disputes are resolved without a trial.  It is usually in both parties' interest to resolve their differences voluntarily.  However, your attorney will play a pivotal role in posturing your case for the best possible resolution, whether through settlement or a trial.
Q: When Should I Hire an Atlanta Contract Dispute Attorney?
As soon as you see signs of a potential contract dispute, contact an Atlanta contracts attorney for counsel.  There are many instances where immediate action may be required.  For example, if you wish to rescind the contract on the basis of fraud, you must immediately make that rescission clear to the other party, preferably in writing, and promptly take steps to return any benefits you have already received under the contract.  Do not hesitate to get professional help before the argument grows into a breach of contract lawsuit. Contact our business litigation lawyers from Carroll Law Firm to review your situation. Call at 404-816-4555 today.
https://www.carroll-firm.com/5-factors-behind-partnership-disputes-in-georgias-business-litigation/